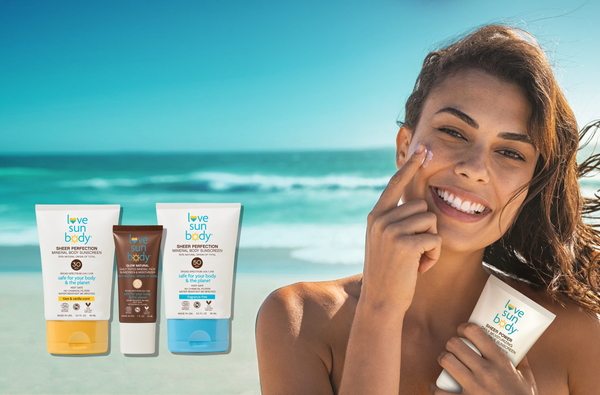 Truly effective broad-spectrum protection
Formulated with natural and sustainable minerals and plant-based ingredients that are safe for your body & the planet.
Shop Now
Sheer Power
Sheer Power is our year-round 100% natural origin daily moisturizing mineral face sunscreen in a NEW rapid rub-in formula, so it's easy to apply, lightweight, no white cast and quick-drying.
Shop Now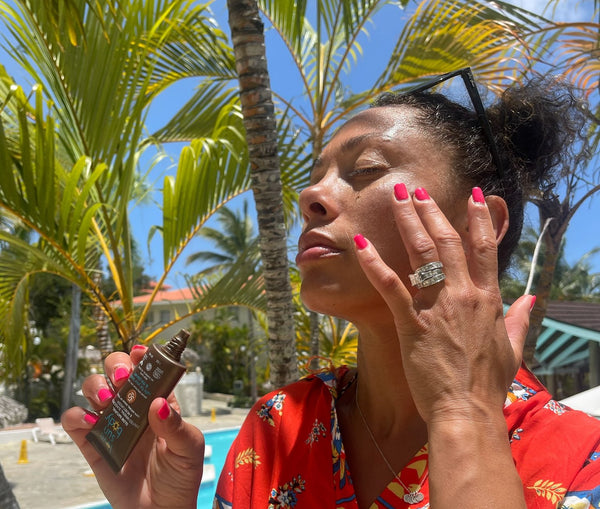 Glow Natural
Even out skin tone and give your complexion a sun-kissed glow with our New Daily Tinted Mineral Face Sunscreen & Moisturizer -- our creamiest and easiest-to-rub-in formulas EVER!
Shop Now
Best sunscreen I have ever used
My son and I recently went to the Bahamas and tried Love Sun Body for the first time. It has become my all-time favorite. My son has rather sensitive skin and is not able to tolerate most sunscreens on his cheeks and around the eyes. He had absolutely no sensitivity to this product. We spent most of our day in the water and under the hot sun. Love Sun Body stayed on much longer than any product I have used in the past. After a week in the sun we both got a light tan but did not approach the level of redness that we did when we used other products. Also I am a runner and every day spent at least 30 minutes running outside. In the past when I applied other sunscreens, I would always be rubbing my eyes during my run and trying to get the sunscreen off of my eyelids. Love Sun Body stayed in place during my workouts and did not migrate into my eyes. This is probably the only product that has stayed in place and I have tried dozens of products over the years. I am a board-certified ophthalmologist and plastic surgeon.
Dr. Brian Brazzo
Easy to apply, not sticky, & sheer coverage!
I recently started to look for mineral only sunscreens, and this one is the best by far! The texture is great, and it rubs in easily. Takes maybe 30 seconds or so to fully absorb, so you can easily see where you've applied it. Leaves skin soft and not sticky at all. Totally sheer sun protection! This will be my go to from now on. Added bonus? It's reef safe, so not harmful to the environment.
Michelle Shuffett
Best SUNSCREEN EVER MADE
Okay…. So this was made in heaven…..
Zinc oxide sunscreen normally leave white cast, dries terribly on the skin leaving skin very dry and uncomfortable, stains clothing, etc.

I've tried over 20 zinc sunscreens and nothing compares. This is the best hands down. ESTHETICIAN APPROVED. I will be referring to all my clients because it's for all skin types, doesn't feel greasy but feels moisturizing, feels amazing on the skin all day long, doesn't cause my reactive sensitive skin any allergies, and DOES NOT LEAVE A WHITE CAST. BUY IT NOW.
Collin Brown
Safe and Effective Sunscreen!
I live in Florida and have tried every sunscreen, it seems. I am very concerned about using one that has 100% natural ingredients. I am impressed with the fact that Love Sun Body has an Ecocert – Cosmos Natural certification. It is sheer, lightweight but effective and I love all of the products they offer, including for my niece's baby! I will be ordering more - this is now my go-to sunscreen!
S N
I am a medical doctor in the field of Dermatopathology and a skin cancer specialist. This 'sunblock' exceeds the FDA requirement to block the cancer causing UV rays. AND this product dries in seconds and doesn't leave you with a chalky white appearance.

I recommend LOVE SUN BODY to all my patients and colleagues. I use it daily.

If I use it, it's the best.
Dr. Jonathan Yao, MD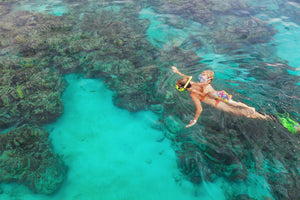 Chemicals Sunscreens Harm our Coral Reefs and Marine Life
The rapid decline of reefs has become an unmistakable global problem, evident everywhere from the Florida Keys to Hawaii and the South Pacific.
Learn More